Registration is open for ATRI 2023 Conference in Montreal
Registration is now open for our annual conference being held September 29 – October 2 in Montreal, QC at the downtown Delta Hotel. We hope you will be joining us as we explore issues facing religious and lay collaborators as they serve in the financial and administrative areas of their communities. Registration is open until August 4th so register soon!  Call or e-mail the office for a copy of the brochure and registration form (705-840-6605 director@atricanada.org).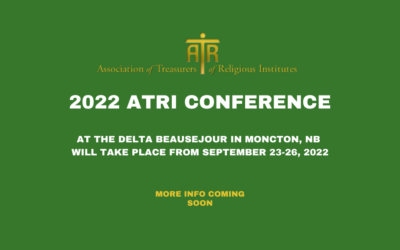 ATRI CONFERENCE IN MONCTON, NB 2022 IS ON! After much discernment, conversation, consultation and prayer, the ATRI Board of Directors has decided to hold the 2022 Conference in person. in Moncton, NB. All Covid 19 protocols will be followed. The Conference at the...
read more